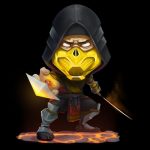 Scorpion
Participant
I can not login.
I have already cleared the browser history, I have tried it on 3 different browsers and I cannot connect. I find the screen according to the attached image. Please help. Thanks
On the day I opened this post(02/18/2021 at 6:42 PM), I opened a Ticket on support. Do you think someone deigned to answer? No! I am waiting for an answer so far(03/31/2021 at 9:10 PM)!
Hello.
Already fixed. We apologize for any inconvenience caused.
She was the only person to respond! Thank you Фырк.
Last edited: 30.03.2021 21:17