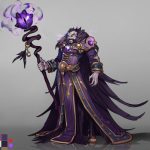 LordRaven
Moderator
i think i did not explain it clearly, sorry about that. nothing will be deleted according to what i understand.
you can login like now to S1, s2 and s3 separately and play with all those characters. Nothing should change from that perspective.
This merger should give room for you to join a guild for example for all characters from s1-s3 and other activity as a server. but s1-s3 will not become S1 – it will still be S1-S3.
but activity wise, all should be merged together, like joining guild, chatting as one server, dueling as one server, arena as one server etc… but i am also curious to see those changes in action and waiting for the announcement to get fine details on the same.