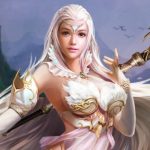 VanadeyS27
Participant
Maybe this is allready an option for the future seen other players asked for it too a while ago? If they would add to shardstore?? No clue tbh.
If you have 20 shards, Captain Octopus for example, you can synthesize it to 1 card first. Then you are able to recycle for essence in the blacksmith. 1 card gives you 20.000 essence for a 5 star hero. Or you use them in your formation if you don't have it yet. On the other hand if the hero is allready in formation, you can upgrade the starnet 5 times with a card. (5 cards needed)
But for now…. no other way to get ridd of them.