Guide – Ruins Treasure Hunt
Guide
Available by icon

Ruins Treasure Hunt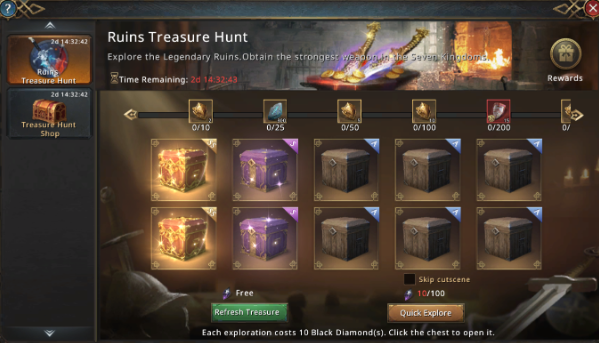 Open various chests and get guaranteed rewards.

Each opening of the chest costs 10 Black Diamonds. Click the Quick Explore button to open all the chests at once. 
When all the chests are opened, they will be updated. For 15 Black Diamonds, you can upgrade chests ahead of time. There are 3 free upgrade attempts per day.

There are 3 types of chests:
The higher the quality of the chest, the greater the chance to get a rare reward.
You can view possible rewards by clicking the Rewards button: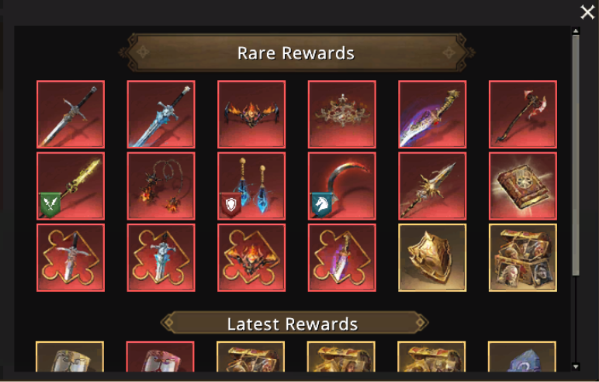 For a certain number of open chests, you can get additional rewards.

Rewards:
10 open chests – 2 Royal Coin

25 open chests – 300 Weapon Reforge Ore

50 open chests – 5 Royal Coin

100 open chests – 10 Royal Coin

200 open chests – 15 Legendary General Token

500 open chests – 50 Royal Coin

1 000 open chests – 25 Royal Coin

2 000 open chests – Ancient Weapon Crystal

3 000 open chests – Ancient Weapon Crystal
Treasure Hunt Shop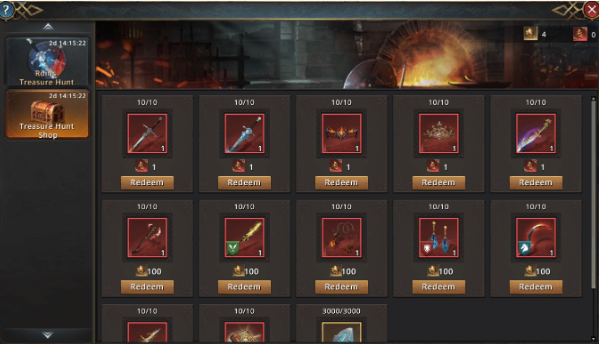 Exchange Royal Canin and Ancient Weapon Crystal for rare items! The number of exchanges of each item is limited.
Attention: Rewards and exchange items may vary from event to event.
The guide is for informational purposes only and can be changed upon receipt of additional information.