Guide – Hunting Festival
Guide
Available by icon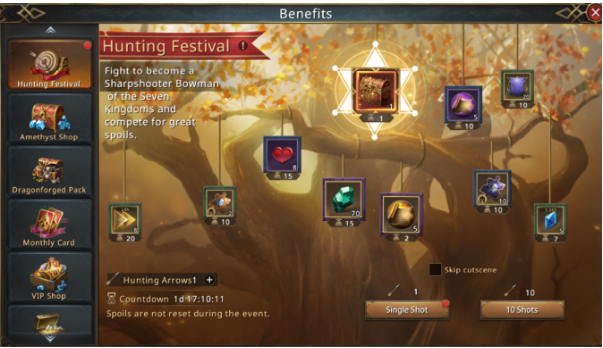 Duration – 3 days.
During the event, players shoot down gifts from the tree with arrows.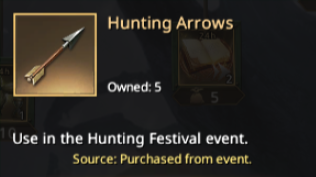 When you first enter the event, you will receive 1 arrow for free. The rest can be purchased (in limited quantities).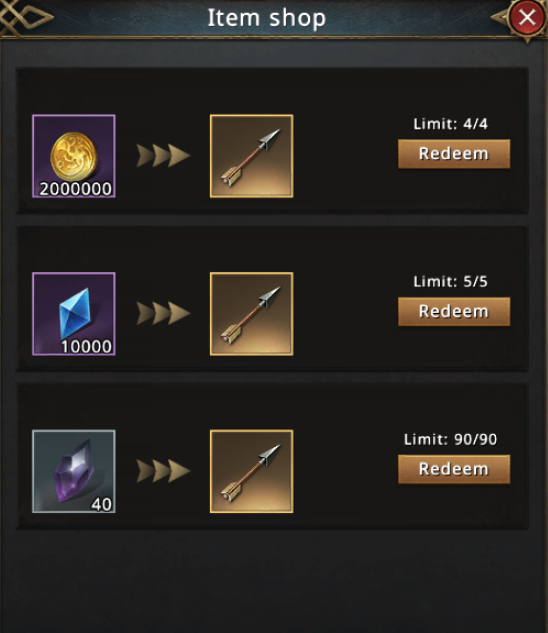 You can shoot 1 time or 10 at once.
Each shot is sure to hit one of the targets.
The number of each reward is limited. Under each trophy, you will see how many more times you can win it.

Attention: if you shoot 10 times at once, it does not mean that all 10 targets will be closed – arrows can hit the same target several times.
If you still have unused arrows, you will be compensated for them at the end of the event.
Moving during an event:
The number of arrows available for purchase and possible rewards is saved after moving.

Free arrows are not reissued after moving.
The trophies available for defeat are not updated during the event:
24 hrs Speed Up – 8

SS Universal Troop Medal – 2

Spirit of Weirwood Tree – 8

Refined rough – 70

[Legendary] EXP Scroll – 5

S Universal Troop Medal – 10

Diamonds 3 000 – 5

Honor baner – 20

[Epic] EXP Scroll – 5

[Ancient] Dragon Passive Skill Selection Chest – 1
Attention: Rewards may vary from event to event.
The guide is for informational purposes only and can be changed upon receipt of additional information.