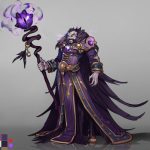 LordRaven
Moderator
Nice to see more people getting interested in making the game better. its a good sign for progress.
Some of these issues are being discussed with the esprit teams, we should be seeing things getting better soon. will keep you guys posted.
Just to Add
Lamp Boss: reward system seems same across all levels of bosses and all types of bosses. the shards for those bosses is supposed to be in the reward.
Ruin Dungeon: The final boss Rewards are missing for many level bosses.