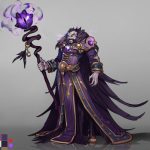 LordRaven
Moderator
I got the Season reward for the current season which ended today. With the current Season of Trojan Wars ended, the new season has not immediately started. however for previous Season, immediately after Trojan Wars ended, it started next Trojan Wars.

Can you please send the Trojan War Season reward for 1st point reward and King Rank for last Trojan Wars? this is still pending to be resolved and rewards provided yet.
This reply was modified 2 years, 6 months ago by LordRaven.
Last edited: 06.06.2021 22:06