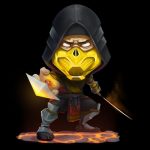 Scorpion
Participant
Its fix… Tank you for your support.
But I would like to leave it mentioned here and I hope you can pass this on to someone:

The support of the game sucks! Nobody answers! A month and a half after the opening of the ticket still nobody answered!?!? For you to get an idea I will leave here a print screen of my ticket attached to the post.

It's a shame!
This reply was modified 2 years, 8 months ago by Scorpion.
Last edited: 01.04.2021 18:50